Discover K-S.ONE, free PPE management and follow-up app

In order to facilitate the management and the follow-up of PPEs, KRATOS SAFETY created K-S.ONE, a free, full yet easy-to-use web app, available on smartphone, tablet and computer.
No installation is required, you only need to have one of these devices equiped with a QR code reader and to scan the QR code on the identification label of the product.

With just a few clicks, K-S.ONE allows:
• The user:
 - to have access to the identification information of the product (ref. no., batch & serial no., manufacturing date) that are pre-registered in the app,
 - to access the User Instructions of the product, as well as its declaration of conformity including its batch no., serial no. and manufacturing date (these documents can be downloaded in PDF format) without prior registration,
 - to record the PPEs assigned to him/her,
 - to determine the frequency of the periodic inspections (3/6/9/12 months) of his/her PPEs,
 - to perform a visual inspection before each use thanks to the inspection guide (donwloadable in PDF format),
 - to have a simple reading of the status of the product thanks to a system of traffic lights (green = compliant product / orange = product to register / red= product not compliant)
 - to know the date of the next periodic inspection of his/her PPEs;
•The user company:
 - to record their PPEs and manage their assignation,
 - to manage their PPEs stock,
 - to have a global view of the status of each of these PPEs,
 - to share this information between employees and safety managers,
 - to have access to the life sheet (history of periodic inspections and their results) of each PPE of its stock,
 - to receive by email a reminder of the dates of the next inspections of the PPEs of its stock;
• The assessor (authorized by KRATOS SAFETY - the connection codes are sent after validation of the training):
 - to have a global view of the assessed PPEs stock,
 - to have all the necessary documents for the control and the maintenance of the products,
 - to perform the periodic verification of the equipment with the help of the periodic inspection sheet and the inspection guide, and to generate automatically the life sheet of the product after inspection.
K-S.ONE is one of the simplest and most efficient management tools on the market, and actually allows you to save time and optimize performance in compliance with regulations.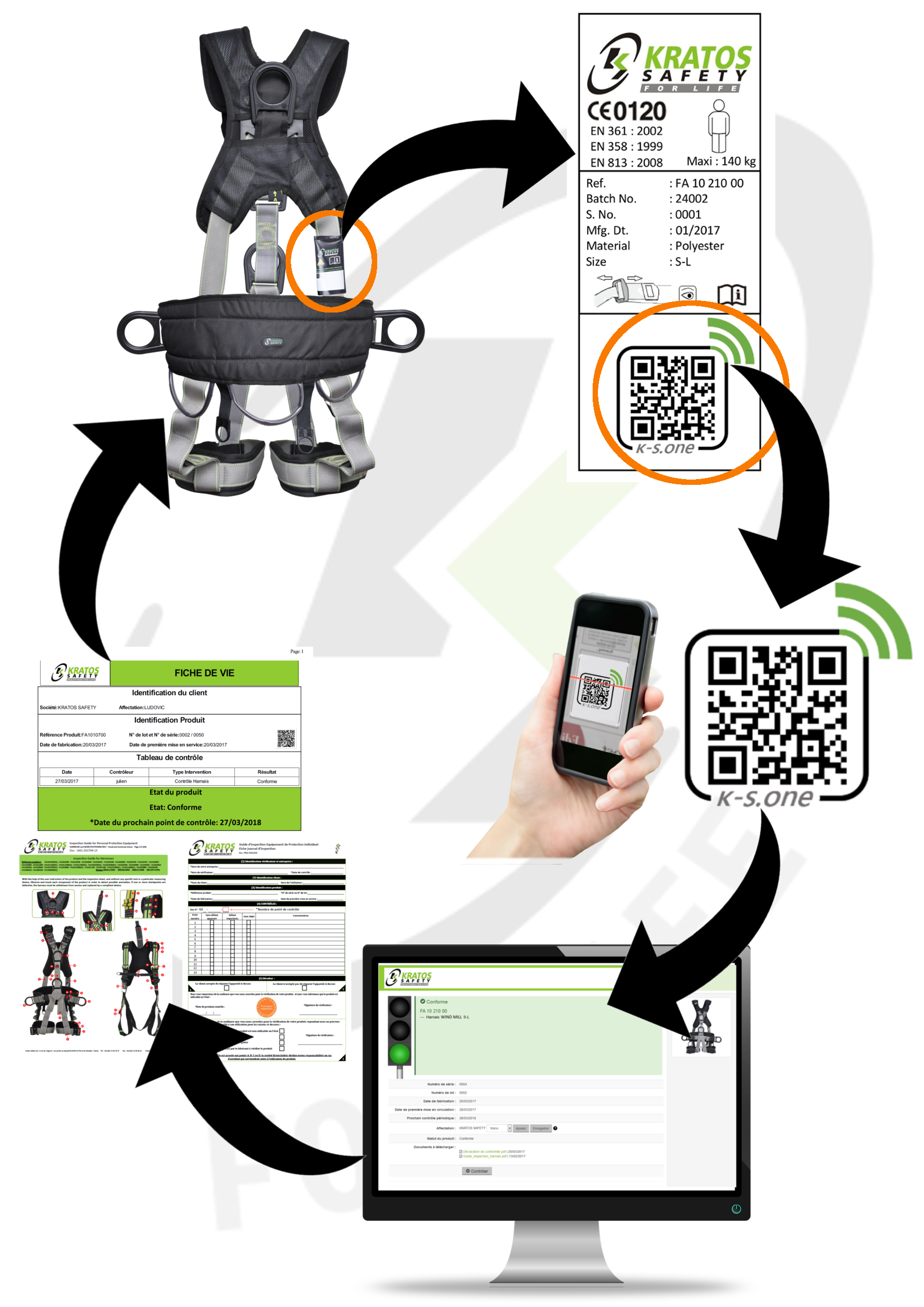 NEW:
- Registration and monitoring of all types of equipment, as well as multi-brand control of personal protective equipment.
- Inspectors are able to add photos to the inspection in progress.
- Managers are able to permanently remove out-of-service or unusable equipment from their product list.
- Declarations of conformity from K-S.One are in accordance with UKCA. 
- The application is available in Polish.